Thank you for Visiting Christman Fuel Service. Our family owned fuel service is committed to providing quality products and reliable service at a fair price. Christman Cares about our customers and our community. Please consider us for all your fuel needs.
Our Start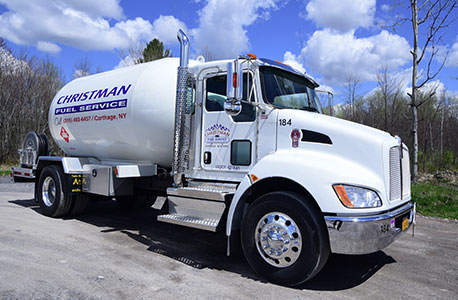 Christman Fuel Service came from a humble beginning. In 2003, father and son, Scott and Jason Christman formed a partnership, opened an office inside Jason and wife Samantha's house in West Carthage and purchased a used 1987 fuel truck. They filled it up with heating oil and went knocking on future customer's doors to sell their first truck load of fuel.
Scott, Jason and Samantha have worked developing the business since it was founded, creating a dependable fuel service that provides their customers with a quality product at a fair price. The Christman family believes in supporting the community that it serves and gives back by supporting many youth organizations and donating to many local charity events.
CFS takes pride in knowing that our "old school" ethic of hard work, integrity, and customer service are our fundamental goals. Our staff of professionally trained HAZMAT drivers, customer service representatives and management staff all work together as a team for one purpose: To bring our customers peace of mind knowing Christman cares!
We are dependable and our customers can count on us being there when they need us. We are affordable, offering competitive fuel prices and price plan options to help customers keep their families warm during the harsh North Country winters. Our family has served more than 11,000 families energy needs in Jefferson and Lewis counties since 2003. Our goal is to continue our quality service for generations to come.
We thank you for your business, and we will continue doing our best to serve you.
Sincerely,
The Christman Family & The Christman Fuel Service Team
Our Commitment
At Christman Fuel Service we take pride in providing the best service to our customers. Our Friendly Staff goes above and beyond other fuel providers by going the extra mile to keep our customers happy. Whether it's fueling up a farm tractor in a field, taking the time to explain a fuel program to a customer or making a safety recommendation, we show Christman Cares!